A century ride (100 miles=161km) is a major accomplishment for a cyclist. Despite having
bought my first road bike
more than 2 years ago in February 2009, I have never been tempted to do so.
The furthest ride I ever did was 103 km in May 2010
and it was an experience that I did not want to ever repeat. With a body mass index (BMI) of 31 kg/m
2
, I am obese, therefore it is a bit hard to lug this tub of ghee (lard is not kosher!) around, especially on that small saddle. Yet somehow I was sweet-talked by the Bukit Jelutong Cycling Club (BJCC) members into signing up for the Ipoh Century Ride, organised by Kelab Roadrunners Ipoh (KRI) on the 17th July 2011. Below is the screengrab of the online discussion persuading me to sign up. I really fell for it; hook, line and sinker!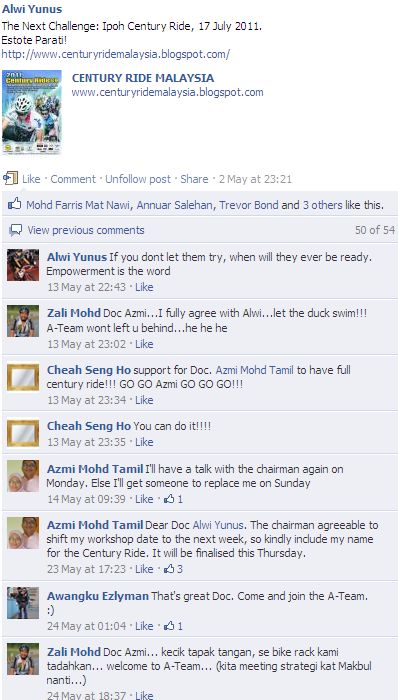 Preparing my body for the ride
The main principle of training for a century is to increase your mileage gradually over a number of weeks. By doing it that way, you help avoid injury, burnout and over-fatigue. When I agreed to join the ride on the 24th May 2011, it was 8 weeks to the day of the ride. But I would be away in Toronto for two weeks in June, coming back only 2 weeks before the ride. So I started training daily, to the extent of keeping my MTB in the car, so that I can ride in my working clothes while waiting to pick up my daughter from school in the evening. Whenever possible, at night I drove to Bukit Jelutong so that I can rack up the mileage by riding along the well-lighted streets. I also started riding with "Grup Haluan Kiri" (GHK) clique of BJCC, learning to ride in formation and in a peloton. With them I started riding further and faster. When I rode with the GHK BJCC from Bukit Jelutong to Kuala Selangor on the 29th May 2011, it really pushed up my confidence since was my personal best ever for longest distance (112.5km) and fastest average speed (27.1 km/hr). From Bukit Jelutong to Kuala Selangor, the average speed was 30.1 km/hr! Not bad for a morbidly obese person!
Below is a screengrab of that Kuala Selangor ride (brown=altitude, blue=speed, red=HR);
BJCC, under the guidance of Captain Razali Mantis also organised weekly rides to ensure that the riders were ready to tackle the century ride. The training went well until 18th June 2011, when I had to depart to Toronto to attend a research meeting. There was a long layoff from training until I arrived back in early July. I started training in earnest again, taking leave from work whenever possible so that I could find time to ride. Despite all my attempts, I only managed to ride 19 times before the ICR. Boy, was I in trouble!
Here is my training log for ICR;
Preparing my bike for the ride
To make sure my bike was ready for the ride, I sent it to
Hee Hong Bike Shop in Taman Nirwana
on Tuesday 12th July 2011 for servicing, after my morning ride. I picked it up back the next day, along with four packs of Powergel, so that I could test it out on the road on Thursday 14th July 2011. Although it was raining on Thursday morning, I still rode the full loop of GCE with the bike since I needed to test it out. It was a nice weather for a slow and easy ride with the sun out of sight, drizzling rain and cool wind at 27 degrees Celcius.
The tyres were in good shape and inflated to full pressure. The brakes were properly lined up and worked as expected. The pads were hitting the centre of the rim, not the tyres nor under the rim toward the spokes. The gear shifting was working smoothly. The wheel were spinning true and no rattling sound anywhere except from my knees ;-)
Glad to say that the bike passed the test with flying colours!
I also checked my
bike repair kit
in the saddle bag, ensuring that my 2 spare tubes, tools and bike pump were present and in working order.
Preparing the logistics for the ride
Luckily for me, BJCC is fantastic at organising their participation in any cycling events. The vice-president and his cohorts collected the registration fees, sent in the registration forms, booked lodgings and organised the transport to and fro. They even picked up the riding kits and timing sensors on behalf of the participants from the organisers!
They even had a sponsor,
Fusion Excel
. With their sponsorship and the help of
Ciclista
, all 32 BJCC riders riding in the ICR were suited up in a beautiful jersey adorned with the
Fusion Excel
logo.
All 32 riders also received one
Quantum Power Bracelet
each. Fifteen lucky riders also received;
I was one of the lucky fifteen! I wore both the
Quantum Power Bracelet
and the
Quantum Pendant
during the century ride.
We need to eat and drink a lot of water during a century ride. We need to eat before we were hungry and drink before we were thirsty. Since this was an organized ride, KRI would have rest stops with food and water at almost every 40 km (km 48, 75, 104 & 144). They had bananas, isotonic drinks, bottled water and cooling stations at almost every rest stops. I also brought 4 PowerGel and two water bottles which I need to refill regularly. Initially I wanted to bring my 2.5 litres Camelbak with me during the ride but Taufik reassured me that there will be regular rest stops, so I left the Camelbak behind. Getting dehydrated is one of the most common problems on long rides so we need to avoid this.
The night before we travelled to Ipoh, I created the route of the ride based on the tracks of the test ride done 2 weeks earlier. Then I uploaded the route of the ride into my Garmin GPS60CSx.
Prof Sani was kind enough to give me a lift to Ipoh in his Hyundai Trajet MPV.
The Ride
After suboh prayers, the BJCC riders rode 10km to the starting point from our overnight lodgings. The ride started at 7 am. My riding plan was to ride with the GHK clique but somehow I got separated from them and I ended up behind Alwi. You can only stick together if you have similar fitness level and experience; and Alwi is way beyond my league. I tried to keep up with Alwi but I lasted only the first 27km. With an average speed of 40km, my heart rate was in the 170s, even hitting 179 bpm. You can see from the picture below how tough it was for me to keep up with the pace.
Not surprisingly I ended up with leg cramps after only 27km of the 161km ride.
I consoled myself that the first rest stop was only 10 km away, but it turned out to be almost 20 km away. I continued to plod on alone until I reached the first rest stop at km 48. After refilling my water bottles and gorging myself on bananas and one of the PowerGel, I was about to ride off when Zali from GHK BJCC arrived. Apparently he got dropped from the main GHK peloton.
I waited for him and we took turns to lead the 2-man peloton. At Jalan Parit (km 59), Zali told me to tag behind a young Chinese male, but he did not take kindly to that and started sprinting. I kept pace with him for 4 km although he was going up to 42 km/hr when he suddenly slipped behind another rider and I had to overtake. Then he tagged behind me and I kept a steady pace above 30 km/hr. When he got bored 2 km later, he overtook me and asked; "Where is your friend?" That was when I realised that I had lost Zali.
I continued on and reached 70km mark at 9.26 am, more than one hour before the cut-off time. Those who reached here after 10.30 am will have their timing chip taken and will be asked to turn back via a shorter route (chicken loop). I rode on to the second rest stop at km 75 and had my first experience of being soaked with cold water. Oh God, it was a heavenly feeling. Thank you KRI volunteers! Unfortunately my earphones no longer works after that. Instead there was a weird humming sound emanating from the earphones. Again I refilled my water bottles and gorged myself on bananas and my second PowerGel.
Then Keat Wong caught up with me kept me company until Kampung Simpang Tiga, when he dropped me at the start of the climb. This was when I noticed a thin girl in green who was on a S-Works bike with the number of A018, riding with the TV3 team. Since category A was for guys younger than 40, I commented on that and she frowned at me. Hehehehe.....
I caught up with the GHK BJCC main peloton at the first big climb (km97). Shahirudeen flagged me down as I was passing by. One of the GHK members suffered cramps at the first of the 3 big climbs, the Dragonbacks of Ipoh (please refer to the vertical profile below), so they stopped to help him recover. When I arrived, they were about ready to continue but I was in no shape to follow them.
As I come down the first twin peaks, I was going down so fast (58 km/hr) that the momentum pushed me over the second big climb as well. As I was arriving at the third and final climb (km 102), most of the riders got off their bikes and pushed (TNT - Turun N Tolak!), but not me! Foolish me kept on riding up that steep climb. I was okay until halfway through the climb when I suddenly suffered cramps on my left thigh. Luckily I managed to unclip from my pedals in time, else I would've keeled over. Followed by cramps on my right thigh. Imagine that, I was having cramps of both my thighs, with my bike between my legs on a steep ascending gradient, unable to move at all. Luckily Wan Mustafa of GHK and another rider came to the rescue and helped me off my bikes. Later he kept me company until the third rest stop at km 104. This rest stop was located at the Kampung Chopin Kiri Community Centre.
At that water station, there were only drinks available. No cooling station. The few bananas left was located beside the female rider that I kidded earlier for riding in the wrong category (the SYT dressed in green, bike number A018). She passed me 3 bananas, but I took only two of them. She insisted, saying that I'll need one banana for each half hour of cycling. I replied saying that I need a miracle for me to finish the ride, not bananas. She laughed and said;"You better start praying then!".
I asked the community leader for permission to use the toilet at the community hall. I used that opportunity to drench myself with a tub of water. I walked out dripping wet and pushed my bike with Wan Mustafa over the timing chip sensors.
When I tried to get on my bike, I suffered severe cramps of my left lower limb. I waved off Wan Mustafa, telling him to continue the ride without me. If the sweeper lorry was there and then, I would've swallowed my pride and got onto it for the 60km ride home. Instead I swallowed the contents of my third PowerGel and gingerly got onto my bike. I learnt to start the ride without fully getting onto the saddle so that I wouldn't stretch my calves, triggering another leg cramps attack. I was riding alone the last 60 km, slowly and struggling to keep away the leg cramps. Riding at the lowest possible gear, sparing one limb, then the other, just to avoid another leg cramps. The terrain was not helping either since it was like riding over a rolling plains, with its ups and downs. At that moment, my spirits were pretty low and I had little hope of finishing the final 60 km.
Yet I still kept on riding, not stopping because I didn't know whether I could get back on the saddle. Eating one banana every half an hour as advised, drinking sparingly but regularly from my water bottles.
Almost 30 km later, the miracle that I prayed for, suddenly happened! Suddenly all the cramps went away. My body felt refreshed and I pushed on at a good pace of 30km/hr. Till that moment in time, the
Quantum Power Bracelet
and the
Quantum Pendant
that I wore, were nothing more than dead weight. Maybe somehow the positive flow of energy helps to maintain energy balance and restored the energy that has become weak in the body. I really don't know. All this mumbo jumbo is not possible to be tested scientifically nor statistically.
The picture below, taken at 12.24 pm near Taman Pelangi, captured me during that moment, 31 km away from the finishing point. The moment that I got my second wind.
I caught up with Shahirudeen after Batu Gajah but I pushed on ahead instead of cycling with him, very unsporting of me. Sorry Deen! I shouted at Deen that I was the last BJCC rider, not knowing that Zali still persisted in riding despite suffering numerous cramps.
Upon reaching the fourth and final rest stop at km 144 near Perak Herbs Garden, both firemen holding the two fire hoses showered me as I was riding in, nearly pushing me off my bike. I refilled both my water bottles and ate the offered bananas. I also took my last PowerGel. With 15 km to go, I was suddenly confident of finishing the ride.
I caught up with Pak Nyan of Gedebe Cycling Club 12km from the end but Pak Nyan declined my offer of riding with me. I was on a roll and rode on at a good pace to the finishing point at Dataran Ipoh. I finished the ride in 6 hours 38 minutes. Not bad for my maiden century ride. When I turned in my timing chip, the organisers returned my deposit and gave me a beautiful finishers' medal. My most beautiful medal ever!
Turned out that I was the third last among the BJCC riders since Deen arrived a few minutes after me. Zali arrived much later.
A018 turned in a much better time at 6 hours 18 minutes, 20 minutes earlier than me. Prof Sani utilised a "non-stop strategy" and finished in an amazing 5 hours and 15 minutes. Prof Bond did it in 5 hours 36 minutes and he is 64 years old! All the other BJCC riders posted very reputable times as listed below;
The icing on the cake, was when I found out that I came in much earlier than my school senior, JB, a century ride veteran, who did it in 7 hours 1 minute :D.

Out of 1021 riders that signed up, 869 finished the ride. Only 152 riders didn't complete the ride. That was very good indeed.
One of the BJCC riders, Haji Jalil wrote after the ride; "It was my first century ride and it was a humbling experience. I thought I could easily went sub 6 hours but man...it was really tough. I managed to complete the ride but my time was 6hrs 20 minutes and this was after a few bouts of muscle cramps and in fact the whole body was cramping and not to mention the pain in the @$$ after 6 hours on the saddle under the hot sun. I realised that you really need to train hard for these kind of ride and I admire our BJCC boys and men that went below 5 hours and to Prof Bond who at 64 years did it under 6 hours. You guys are GREAT.
Below is the screengrab showing my performance during that century ride (brown=altitude, blue=speed, red=HR);
Below is the vertical profile of the ride;
For those interested in having GPS tracks of the ride, please
click here to download it
. You can view it in Garmin Mapsource (Windows) or Garmin Basecamp (Mac). You can even upload it into your trainer such as
TacX Fortius/iMagic/Bushido
or Computrainer.
Conclusion
It was great to achieve that milestone as a cyclist. Although I was riding a cheap aluminium road bike (RM2K), I was able to do so with the right preparation and support from the BJCC members. I hope to achieve better time in future century rides.
Luckily for me at the end of this century ride, I didn't have to ride back to the lodgings. Prof Sani picked me up at Dataran Ipoh and sent me straight home to Shah Alam, using his favourite "non-stop" strategy. Thanks Prof!
Credits: The pictures above were taken by Prof Sani, Alex (KRI Cycling Club) and Andrew Chuah.